Basic Lithium-Ion Battery Package
What's in it?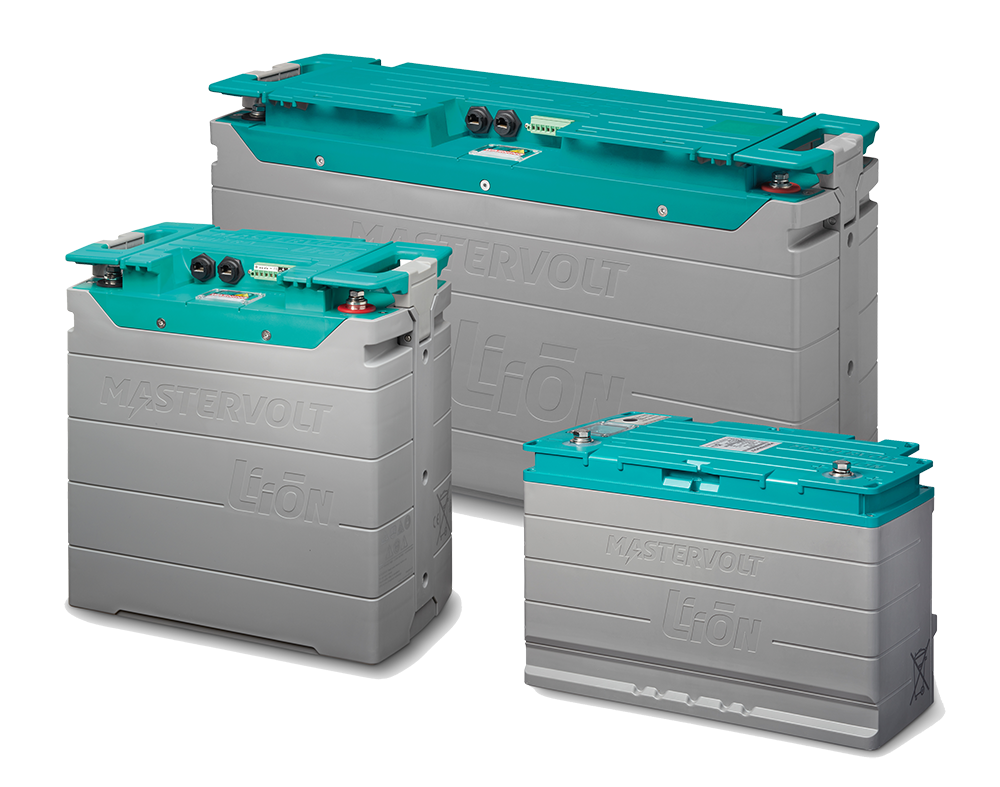 Battery / Batteries
Heavy Duty, Extreme Performance
The MLI series delivers extreme Lithium Ion performance even under the harshest conditions, such as high charge and discharge currents, wet environments, mechanical shocks or vibrations. This is realized by combining our best Lithium-Iron Phosphate (LiFePO4) cells with a proprietary Battery Management System (BMS) inside a sturdy, waterproof housing.
The sophisticated Mastervolt BMS ensures optimal use of each individual cell. Integrated battery monitoring provides you with accurate and up-to-date information on the state of your battery. Integrated NMEA 2000, CZone or MasterBus communication allows complete system integration, to ensure the best possible recharging, while maximizing the lifetime of your battery.
Self-learning balancing algorithm
The MLI Ultra batteries are equipped with a self-learning balancing algorithm that predicts the behavior of each individual battery cell and balances proactively, resulting in a faster and more efficient charge cycle. The self-learning system eliminates unnecessary stress on the cells, resulting in an even longer Battery Cycle Life.
Safe Operation - The Mastervolt MLI series is equipped with an integrated Battery Management System (BMS) and communication through MasterBus/ CAN. Even in the harshest cycling conditions this guarantees efficient and safe operation of the battery.
The MLI series batteries come with an integrated automatic safety switch. Safety always comes first.
Weight Reduction - As speed and performance are crucial aspects, a Lithium Ion battery with 70 % less weight than similar lead acid batteries offers considerable benefits. A vessel or vehicle with a storage capacity of 20 kWh on board, can easily save up to 500 kg and achieve a substantially better performance.
Superior Performance - Mastervolt Lithium Ion batteries have a realistic lifespan of over 3500+ cycles at a depth of discharge (DOD) of 80 %. This means five times more energy storage than lead acid batteries thanks to features such as extremely high efficiency, the almost complete absence of self discharge, and the minimal build-up of the infamous 'memory effect'.
Suitable for large battery banks - The MLI series is ideal for electric and hybrid applications, and can be connected in parallel unlimited. The built-in common-rail technology offers an easy series connection of multiple MLI Ultra batteries.
​
Features
BMS and LiFePO4 chemistry according to highest safety standards.
Saves up to 70 % in space and weight.
More than three times the life span of traditional batteries.
Fast charging within 60 minutes.
High charge / discharge rate up to 2.5 C.
Integrated battery monitoring (Ah consumed, state of charge).
Series connection up to 10 batteries possible.
MasterBus communication with any Mastervolt battery charger.
Waterproof electronics compartment.
Designed according to UN38.3. (CE, E-Mark certified.) (DNV-GL planned for end 2021)​
MLI ULTRA 12/1250 - 100Ah
MLI ULTRA 12/3000 - 230Ah
MLI ULTRA 12/6000 - 460Ah​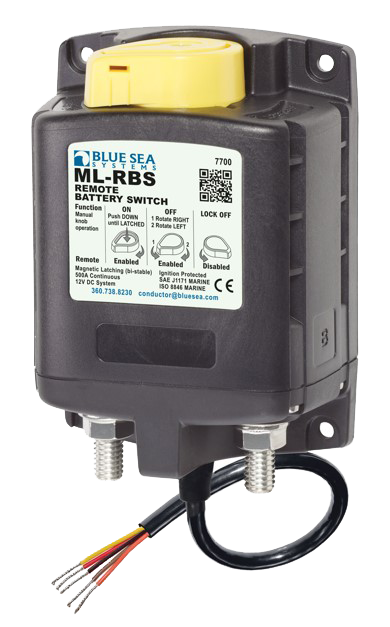 Battery Protection - Remote Battery Switch (Safety Relay)
For additional safety: Mastervolt stipulates the use of a safety relay as mandatory part of the battery installation.
Using a remote battery switch results in increased safety and convenience, and significant reduction in cost, weight, and voltage drop. A remote battery switch is installed as close as possible to the battery bank, and is operated by a low-current control switch in a convenient location.
Remote Battery Switch features:
Continuous and intermittent current rating
Ability to switch under high current load
Manual ON/OFF—added level of safety by allowing control with or without power
Safety lockout capability for servicing downstream circuits
Water ingress protection—enables operation in harsh environments
Only draws current when changing the state of the switch; no current is used to hold the contacts in place
G-force resistance—withstands high-shock loading so contacts maintain position in the roughest conditions
​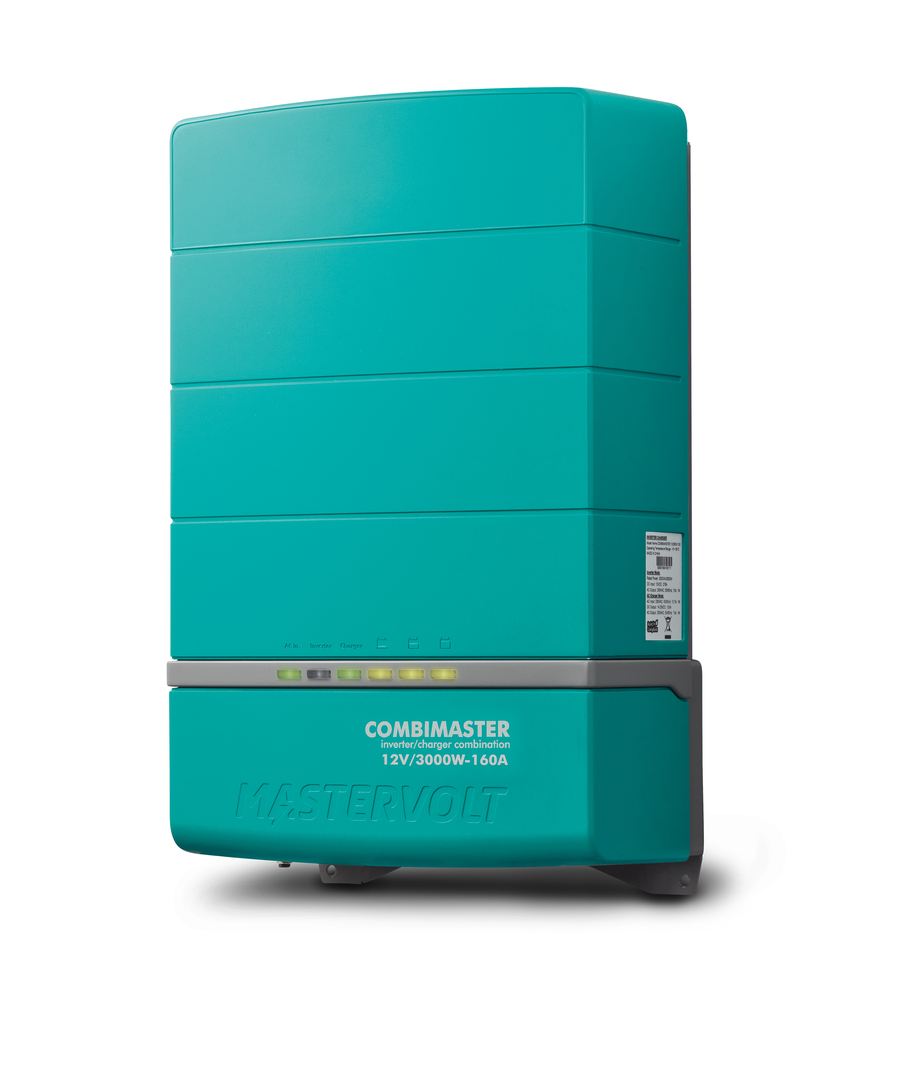 Inverter / Charging – CombiMaster
Mastervolt's power conversion products offer cutting-edge technology, quality and reliability. Whether using a microwave, LCD TV, coffee maker, cell phone charger, entertainment system or more, Mastervolt's electrical products power the comforts of home.
Unmatched performance at an unprecedented price
Designed with the customer in mind and using the latest technology, the CombiMaster range is all about user-friendliness and reliability. But don't let that friendly appearance misguide you: the powerful CombiMaster range drives even the heaviest and most sensitive loads with ease!
With the CombiMaster, power dips and failures belong to the past. The automatic AC transfer system switches between generator or mains and inverter output, ensuring a constant power supply. Its Power Assist function prevents tripping of the mains fuse in case you're connected to a weak land line or small generator.
The CombiMaster range delivers unmatched performance and value for money. As you would expect from Mastervolt, the CombiMaster is completed with MasterBus, CZone and NMEA 2000 compatible communication, allowing for a broad range of monitoring and system integration options.
Remote Control and Monitoring options
MasterBus compatible via SmartRemote or EasyView 5 display.
CZone / NMEA 2000 compatible via Touch 5 or Touch 10 display.
NMEA 2000 compatible via 3rd party multifunctional display.
CombiMaster Features
Most compact and lightweight Combi in its class
Reliable, cost effective and hum-free
High VA rating and > 200 % peak power to start even the heaviest loads.
Pure Sine technology prevents malfunctions and damage to electronic equipment
Low-loss HF technology allows for longer operation from your batteries.
Powerful and intelligent 3-step+ battery charger for fast and safe charging.
Fast, automatic switching between mains and inverter mode
Power Assist prevents blown main fuses
Generator compatible
Quick installation and heavy-duty connections
CE and E-mark certified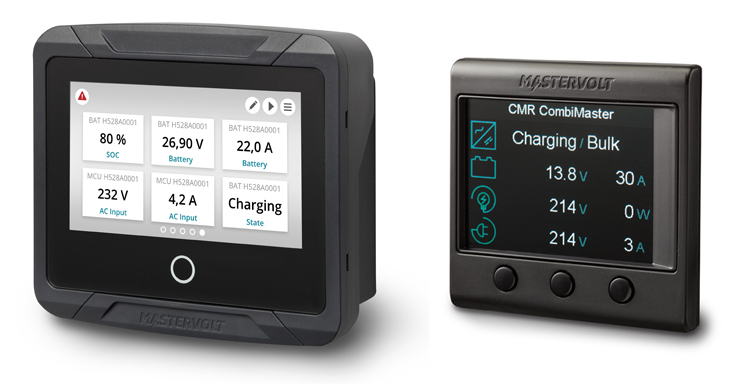 Monitoring / Control
Top-quality components which can communicate within an extensive network: Mastervolt gives you full control over your system.
Displays are designed with both the manufacturer and end-user in mind. The easy-to-use display screens put the control of all components directly at your fingertips. Multiple display interfaces can be used in the same system. The scroll and click interface is simple to use.
Unexpected flat batteries put a dampener on your pleasure. A Mastervolt battery monitoring system brings an end to nasty surprises. A clear display shows performance, consumption and available battery capacity. More elaborate systems management is also available: this includes monitoring and operation.
Two popular components are the EasyView 5 and the new SmartRemote.

Monitoring / Control - EasyView 5
Waterproof System Monitor with 'daylight readable' display and intuitive touchscreen
Controlling your Mastervolt system has never been easier. The EasyView 5 features a sharp, waterproof display which is clearly readable in daylight. Thanks to the color touchscreen and multi-language menu, the display is a pleasure to operate. Easily customizable favorite pages show all relevant system information at a glance.
Features
Intuitive touch control
Customizable favorite pages
Log book for warnings and alarms
Buzzer and Home button
Easy mounting: front mount, wall mount or retrofit
MasterBus powered, or 12/24 V input
Easy updating through MasterBus and USB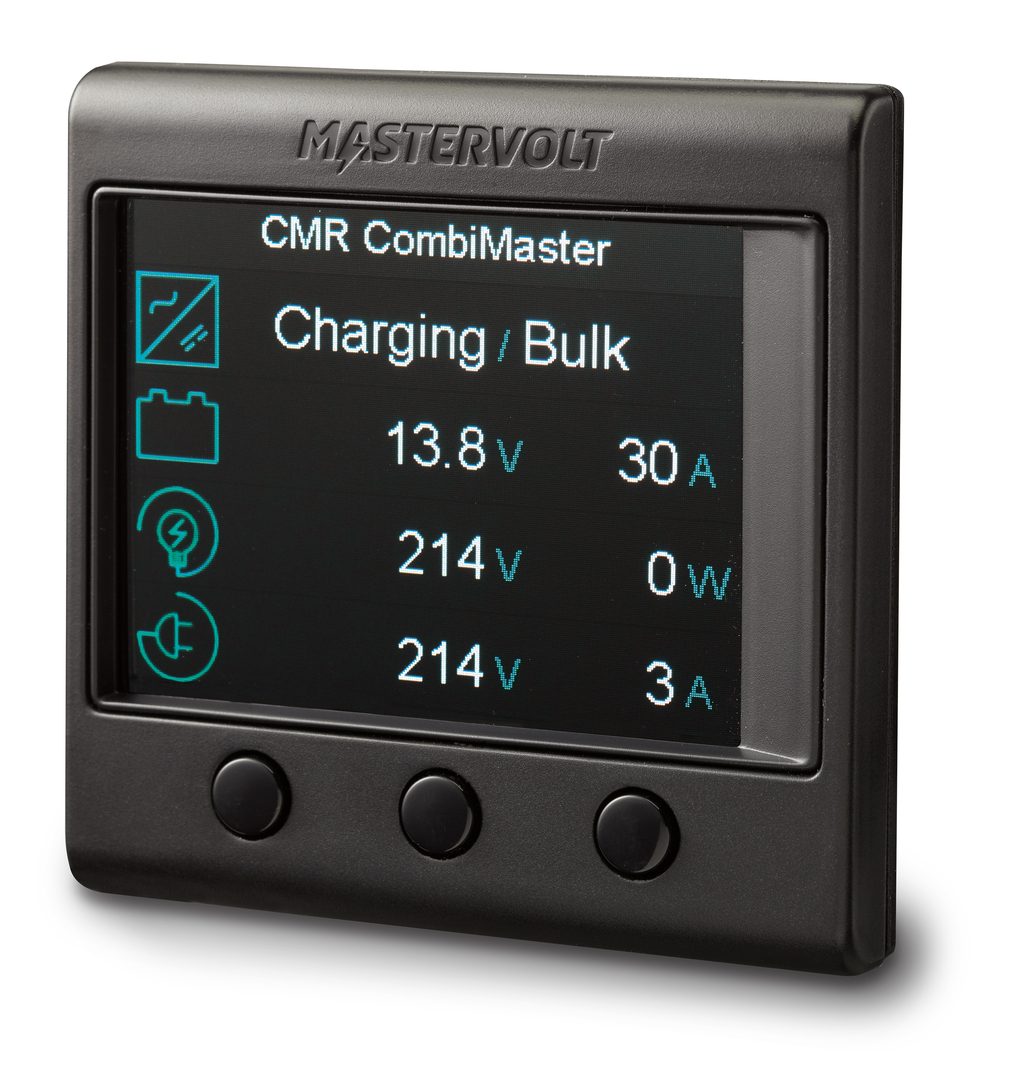 Monitoring / Control - Smart Remotes
Checking your Mastervolt product has never been easier
The SmartRemote completes any MasterBus system. With its good looks and compact size, the SmartRemote is ideal as a remote panel in entry level power systems or as a local device readout in larger systems. Applications include boats, vehicles and stationary systems.
Local device monitoring
Mastervolt products enable intelligent power systems with advanced multi-device monitoring and control. However, in situations where the local device readout is hard to reach or too limited, an entry-level color display for local device monitoring would be ideal. This is where the SmartRemote comes in.
Easy to use
The new SmartRemote single-device display is unique in many ways. It communicates with Mastervolt devices, shows key parameters, allows simple device settings and is fun to use. Checking your batteries, adjusting your shore fuse or controlling your Mastervolt charger/inverter has never been easier.
Easy to install
The SmartRemote display can be panel mounted or may be integrated into a Blue Sea Systems Custom 360 bezel. Connection is easy as 1-2-3: simply click the network cable into a Mastervolt device and off you go.
Affordable
The SmartRemote offers great value for money, having so many features in a compact and sturdy design, at a price which will surprise you.
Features
Full color display for local device monitoring

Displays key parameters

Control key device functions

User adjustable power saving mode

MasterBus network compatible

Universal, easy mounting

Plug & Play – no configuration, no power supply needed

Blue Sea Systems Custom 360 integration

Support for English, Dutch, German, French, Spanish, Italian, Danish, Swedish, Norwegian, Finnish
Supported products:
CombiMaster, all models.

MLI Ultra 6000, MLI Ultra 3000, MLI Ultra 5500, MLI Ultra 2750, MLI Ultra 5000, MLI Ultra 2500, MLI Ultra 1250, MLI Ultra MKI.

MasterShunt 500 CZone, MasterShunt 500.

Support for other

Mastervolt

products is under development, please keep close attention to this site for updates.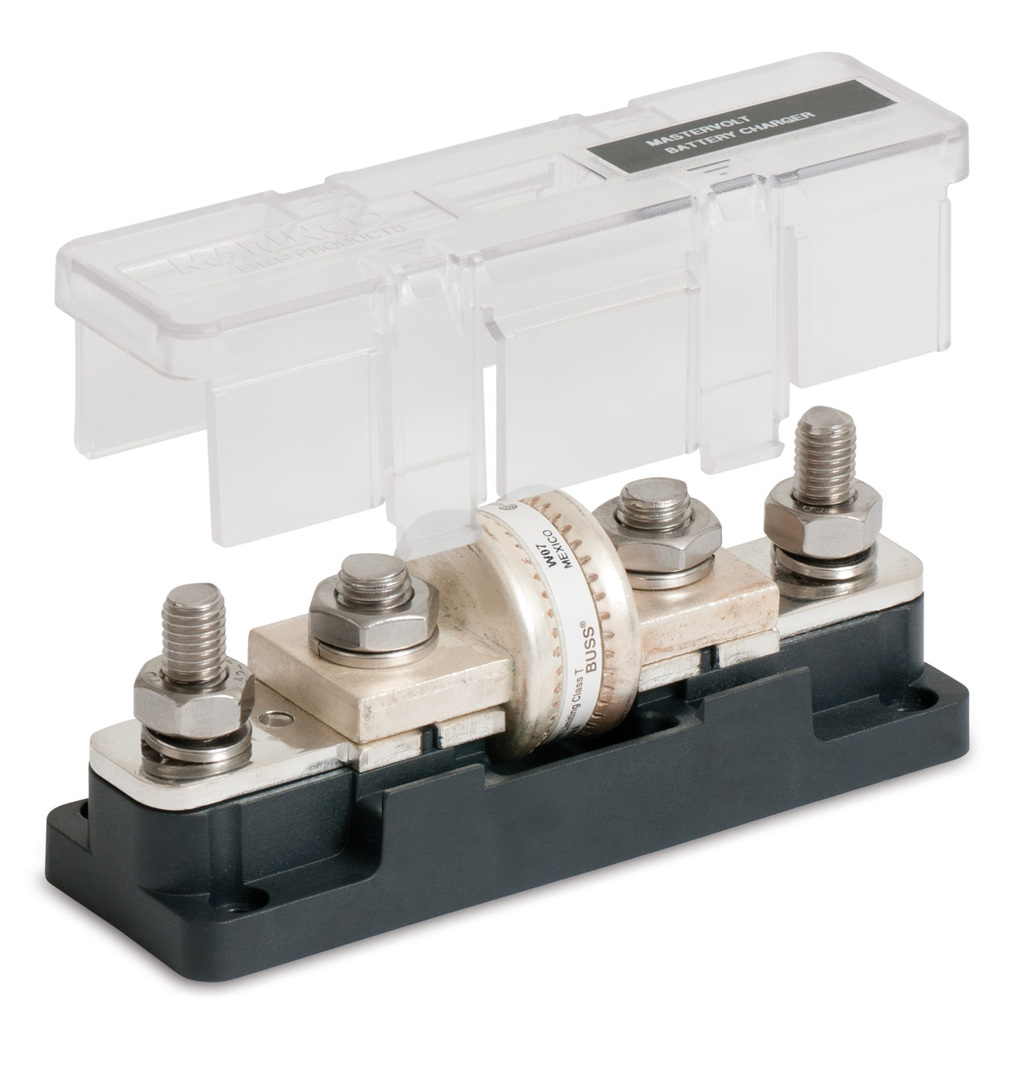 Circuit Protection – Fuse and Fuse Holder
Providing high-capacity fusing, fast response and very high interrupt ratings (ANL up to 6,000 Amps, Class-T up to 20,000 Amps), these fuse holders are ideal for protecting today's demanding onboard power electronics technology including inverters and battery chargers. They also protect wiring from short circuits. Pro Installer fuse holders' durable construction allow fuses to run at maximum load.
MRBF Fuse

MEGA Fuse

ANL Fuse

CLASS T Fuse

​

MasterBus Network
MasterBus is a network that makes use of CANbus technology, which already has a proven track record in the automotive and maritime markets. MasterBus controls the supply for all connected equipment, including the inverter, battery charger, generator and much more besides. This makes an intelligent system performance possible.

MasterBus is unique for the way a wide range of products, recognizable by the MasterBus symbol, are fitted with the same communication port. This results in a mine of information on all connected components. Everything becomes clear and easy to operate via one central touchscreen panel. Operation from multiple locations is also possible, for example via PC/laptop or SMS. Installation is also incredibly simple and the minimal amount of cabling significantly reduces the chance of failures.

Terminators ensure interference-free operation of the MasterBus network, prevent reflection of data signals and ensure high communication speeds.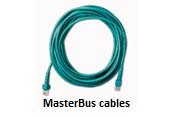 Suitable for data traffic and powering peripheral equipment in harsh environments, this is the only cable you need for your MasterBus network. MasterBus compatible products come standard with two ports, while other equipment requires an interface.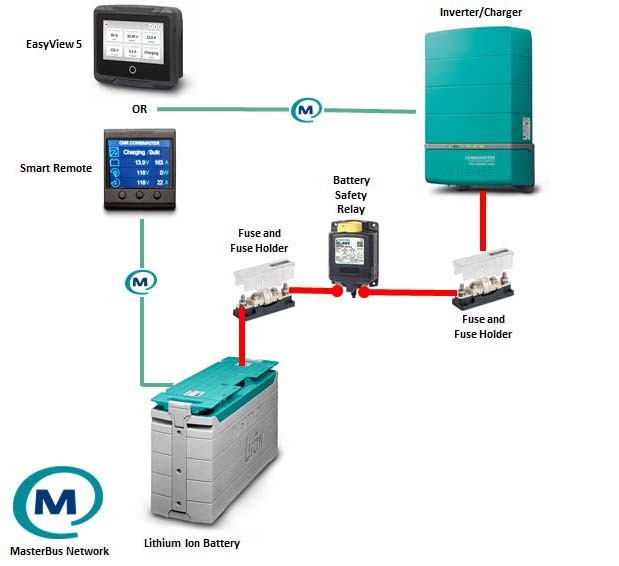 Main Components
Battery/Batteries – 100Ah, 230Ah, 460Ah

Battery Protection – Safety Relay

Inverter/Charging – CombiMaster

Monitoring/Control – EasyView 5 or Smart Remote

Circuit Protection – Fuse & Fuse Holder

Masterbus Network
Let us help you design the perfect Lithium Battery Package and experience the difference.
Contact us today:
email: sales@abcmktginc.com
or contact us let us design a system for your RV:
Phone: 574-293-9399
Fax: 574-293-5801
Printer friendly version: Click Here
To further understand the Mastervolt Lithium-Ion Basic Battery Package and how it can integrate with other components Click Here